Positive Training for Positive Results
Healing for All Beings offers private and group dog training as well as Healing Touch for Animals sessions at Cobber's Pet Pantry.
Classes use reward-based training and focus on building the relationship between dog and handler. Relationship building encourages learning and communication to take place outside of the class setting and helps to enhance communication, respect, and bonding. Melissa tailors her guidance and instruction to what students want to learn and limits classes to five or fewer dogs to ensure that participants get one-on-one attention.
Healing Touch for Animals can be a supportive and reliable aid for any species. HTA is an energy therapy that accesses the energy centers (chakras) and helps to return them to balance. This allows the body to begin to relax and to ease into normal functioning. It aligns with the will of the animal and can be useful for maintaining wellness or dealing with injuries, illnesses, training/behavior issues, euthanasia and end of life care.
For more information, you can reach Melissa at www.HealingForAllBeings.com

Behavior Modification
Here at Cobber's Pet Pantry, we concentrate on pet dog behavior modification. Pet dog behavior modification is where we change existing dog actions. This includes but is not limited to training in or changing chain decorum, chewing, dog source guarding, barking, splitting up anxiousness, leash lunging, leash hostility, dog-on-dog hostility, and pet to human aggressiveness.


House Breaking & Potty Training
House training your puppy is about uniformity, persistence, as well as favorable support. The goal is to impart good behaviors as well as build a caring bond with your pet dog.
Professionals suggest that you start house training your young puppy when they are in between 12 weeks and 16 weeks old. At that point, they have enough control of their bladder and bowel movements to learn to hold it. With Cobber's Pet Pantry's expertise, we provide you the devices and also techniques to finest house train your brand-new furever friend.

Puppy Training
Enrolling in young puppy classes before 3 months of age can be an exceptional methods of improving training, strengthening the human-animal bond, and interacting socially pups in an setting where risk of illness can be decreased. As a whole, pups can begin puppy socialization classes as early as 7-8 weeks of age. Young puppy socialization classes use a safe as well as orderly methods of mingling puppies and more quickly boost their responsiveness to requests. Early and also appropriate pup socialization and also programs of favorable pet training can go a long way to stop behavior problems and improving bonding between human beings and also pet dogs. While the very first 3 months is one of the most crucial puppy socializing period in a puppy's life, proprietors of pups that have passed this landmark are highly motivated to continue to socialize their young puppies to as many people, animals, and also places as functional.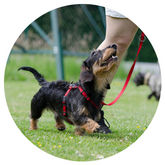 Beginner Training
Beginner training for pets is crucial. Dogs aim to please, so with these beginner approaches as well as strategies, they will offer your pet dog's chances to make you happy. Our courses begin with the standard sit, stay and come. But as your dog breakthroughs, we provide a lot more tough requests that are used in our other programs! These are designed to maintain your pet engaged and also on their toes.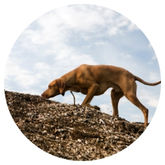 K9 Nose Work Training
K9 Nosework is an task that enables your pet dog to utilize their natural desire to hunt. It harnesses a pet's distinct capability to detect the aroma and also establish the source. In training, dogs discover to locate among three aromas just about anywhere you can conceal it. Throughout the training, the dogs begin to link that odor pays. And practice makes perfect. After numerous rounds of these extremely fun games, you'll eventually move past boxes or containers as well as get to more difficult challenges.

Read What Customers Near Enumclaw Are Saying
We love all our local customers from areas near Snoquera, Greenwater, Wabash, Osceola, Boise, Buckley, Enumclaw, Krain, and more!
Come visit our pet supply store in the Enumclaw, WA specializing in quality food, treats, and supplies for cats and dogs.